TUTORS AT THE CHEF'S ROOM
OUR TUTORS & THEIR SPECIALITIES
IN HOUSE
FRANCO TARUSCHIO - Italian and Welsh Cooking
LINDY WILDSMITH - Italian, French and British Cooking, Curing and Preserving, Confidence Building
JOHNNY JENKINS - Fish Skills
RACHEL HAWORTH - Cocktails and Canapes, Kiddies and Men in the Kitchen
GUESTS
SHAUN NAEN - Asian cooking and Patisserie
ALEX GOOCH - Artisan Bread
ALEX MACKAY - French Classics and Everybody, Everyday
MATT TEBBUTT - British Classics RAYEESA - Indian Cooking
The level of expertise of our tutors and their capacity to share their knowledge and enthusiasm goes without saying, but they also believe in the importance of making classes relaxed. If you feel at ease you will get so much more out of learning.
Lindy Wildsmith has had a life long association with Italy. Our resident tutor, chef Franco Taruschio was born in Le Marche making the authenticity of our Italian cookery courses indisputable.
Effervescent assistant Rachel Haworth has been working with us for some time now. She came originally as an enthusiastic customer, took on some washing up and is now teaching workshops herself. I should mention she has also been a Masterchef contestant, so is no beginner!
Be Mackintosh is a newcomer to the team - competent, confident and professional. She is keen to get her new workshops for building confidence and for children off the ground.
We have award winning fishmonger Johnny Jenkins, Vin Sullivan stalwart who comes in to give us the benefit of his expertise for our Fish Basics and Knife Skills courses.
Malaysian chef Shaun Naen has become a regular guest at the school and is a charismatic and knowledgeable tutor who believes in the use of genuine natural ingredients. He gave us a sell-out Malaysian Street Food course earlier in February with assistance from Martin Griffiths. He will be back again next year to bring us more fascinating food from his homeland and hopefully a class on patisserie too.
New Zealand born Alex Mackay is a passionate and enthusiastic teacher. His classes are very popular, so book soon not to be disappointed. We have already invited him back in November to give one of his very special Everybody, Everyday classes, based on his latest book of that name. More French classics next year!
We are excited to be able to welcome Alex Gooch to the Chef's Room. He is an instinctive, charming and down to earth teacher. He oozes enthusiasm and knowledge for his craft and is keen to share his talents and some tricks of the trade with us all. Last but not least we are pleased to be associated with Pam Killick who runs Chocs Away, specialising in chocolate workshops.
---
MEET OUR TUTORS
FRANCO TARUSCHIO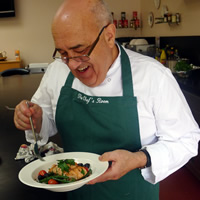 Franco Taruschio was born in Le Marche region of Italy. He originally came to the UK in 1961 for a six month period but this turned out to be much longer. Three weeks before he was due to return home he met his future wife, asked for an extension to his stay and in 1963 he and his wife Ann bought what eventually became the renowned Walnut Tree restaurant. After 37 years he sold up and since retiring he continues to help aspiring chefs and has discovered he derives great pleasure from teaching cooking to enthusiastic amateur cooks.
Over the years Franco has been honoured with many awards for his services to the restaurant and tourism industry but in February 2003 he received his greatest honour when he was awarded the OBE in recognition of his services to the culinary industry and to the community in Monmouthshire. Since 1986, when Franco appeared in "Take Six Cooks", he has taken part in many TV programmes, including a six part series titled "Franco and Friends".
Over the years Franco has been honoured with many awards for his services to the restaurant and tourism industry, but in February 2003 he received his greatest honour - when he was awarded the OBE in recognition of his services to the culinary industry and to the community in Monmouthshire. Since 1986, when Franco appeared in Take Six Cooks, he has taken part in many TV programmes, including a six part series titled Franco and Friends.
In collaboration with his wife Ann he has had five cookery books published and they are currently writing a book on the cuisine of Le Marche.
Franco is also a hands-on president of St Anne's Hospice, Newport, a position he is very proud to hold.
---
LINDY WILDSMITH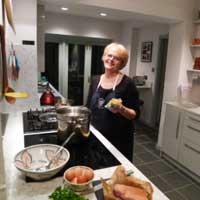 Lindy Wildsmith loves teaching. She lived and worked in Bologna and Rome working in the film and fashion industries for many years and on returning home wrote a book about pasta and Italy; so started her career as a freelance food and recipe writer and teacher.
Her style of food brings together the best of her native British country food, Italian regional cooking and the culinary experiences she enjoys around the Mediterranean and further afield.
Her specialist subjects are fish, meat and game, afternoon tea, preserving, curing and confidence building but she will turn her hand to anything. She teaches residential courses at Denman - the National WI College near Abingdon in Oxfordshire, day courses at Hart's Barn in Gloucestershire, and Divertimenti in London.
She is involved in many local projects both in the community and in schools teaching cooking in what are very deprived areas. She also gives fish cooking demonstrations for Tesco fishmongers on their Gold training course.
See Lindy's books page
---
SHAUN NAEN
Shaun Naen is a native of Malaysia and it was here he learnt his initial cooking skills. After working his way around the world he settled in Gloucestershire where he is now Head Chef at Gloucestershire College's 'Renaissance Restaurant' in Cheltenham. His cooking is a fusion of Asian and British flavours and he is a master of cooking with the Wok.
---
JOHNNY JENKINS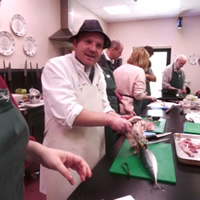 Johnny is a multi-award winning fishmonger employed by our host company Vin Sullivan. Johnny is therefore always on hand to share his expertise on our Fish Basics courses. This year he will be assisting on our Knife Skills course with fish and poultry preparation.
---
ALEX GOOCH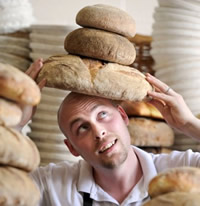 Alex Gooch has been voted Food Producer of the Year by Waitrose and Country Living Made in Britain Awards and Best Food Producer by Radio 4 Food and Farming Awards. We are excited to be able to welcome Alex to the Chef's Room as a guest tutor. He is an instinctive, charming and down to earth teacher. He oozes enthusiasm and knowledge for his craft and is keen to share his talents and some tricks of the trade with us all.
Make 100% spelt bread from scratch using British grain and some superb Welsh cheese and other Welsh ingredients. Make focaccia and ciabatta, bread sticks and other flat breads using interesting dough made in advance by Alex. This is a 'short' bread making course (4 hours) that will introduce you to the principles of artisan bread making, the importance of using good ingredients and some traditional processes in the time frame. The class includes a light lunch - based around bread of course!
"The wild yeast starter and long fermentation act as a natural preservative and flavour enhancer, giving bread superb depth and character. Making bread brings you into the moment completely. It stimulates all of the senses whether it be the feel or look of the dough, the sweet toasted smell of the baking bread, or the crackle as you squeeze a stone baked ciabatta." Alex Gooch
For more information about Alex, his bread, his bakery in Hay and where to buy his bread visit www.alexgoochbaker.com
---
ALEX MACKAY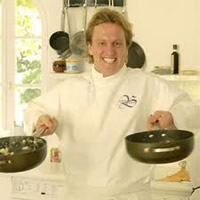 Delia Smith says that Alex Mackay is "a brilliant chef… with a rare and very special gift" and that "it is a privilege to watch Alex cook". Raymond Blanc says that "Alex is the best home cook and cookery teacher I know".
Alex Mackay is a cook, teacher, writer, cooking with kids enthusiast and a regular on cookery television. He is a winner of the Guild of Food Writers Cookery Journalist of the Year and three-time nominee. His first book, Cooking in Provence, won a World Cookbook award. He presents video recipes on http://www.merchant-gourmet.com/ and runs the Alex Mackay Cooks cookery classes at Norwich City Football Club. Alex was the Cookery School Director for 3 years at Raymond Blanc's Le Manoir aux Quat' Saisons, followed by 6 years at his own cookery school Le Baou d'Infer in Provence, and a decade alongside Delia Smith at her cookery workshops. Alex's Cookery School was put in the world top ten by the Sunday Times and Conde Nast Traveller. Alex was a regular on BBC's Ready Steady Cook and ITV1's Daily Cooks Challenge. He lives in Oxfordshire with his wife Jess and sons Jake and James. Alex's revolutionary new cookbook, Everybody, Everyday, is out now.
Alex Mackay believes that cooking is an adventure and that good food should be for everyone. Alex Mackay's cookbook, Everybody, Everyday, shows you a whole new way to make everyday food delicious and delicious food every day. No starters, no sweets, just three practical approaches to help you cook your meals and vary them easily.
Everybody, Everyday is divided into three parts: basic main ingredients (Adventures with Ingredients), essentials for the fridge (The Magic Fridge), and slow-cooked dishes (Slow Cook Sorcery). Each part is a selection of 'hero' recipes and every one is followed by six delicious variations. So, once you know how to bake salmon fillets, it's a short step to baked salmon with mushy peas & chunky sunblush tomato ketchup or five other options. Homemade basil pesto can become mozzarella and pesto meatballs with roast garlic, tomato and peppers; beef rump with pesto, grain mustard, beetroot and pak-choi; no sweat pesto risotto with sautéed vegetables and sunblush tomatoes; spinach, crème fraiche, penne, Parmesan and pesto bake; lamb shoulder chops with fried new potatoes, cherry tomatoes, olives and pesto; or braised seabass fillets with beans, peas and pesto.
You will join Alex to cook a selection of these heroes and adventures and see how the formula for each hero recipe can grow into endless ideas for different dinners as the Everybody, Everyday methods become familiar and your confidence increases. It is a day to revolutionise your home cooking.
---
MATT TEBBUTT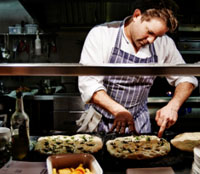 As well as heading up the team in The Foxhunter kitchens, Matt presents Food Unwrapped on Channel 4. Series three of this award-winning food show is now in production. In July 2013 he hosted the cookery demonstrations at Buckingham Palace for the Queen's Coronation celebrations. Matt co-presented Market Kitchen for for 5 years with Tom Parker-Bowles and Matthew Fort and he is the guest presenter of Saturday Kitchen on BBC1. He is also part of the new Food and Drink team on BBC1. Matt's first solo cookbook, featuring all his favourite recipes, Matt Tebbutt Cooks Country, is still available. His new offering 'Guilty Pleasures' - your favourite sweet and savoury indulgences in 130 easy recipes, has just been released to great acclaim. The restaurant and some of Matt's recipes are also featured in 'The Gastropub Cookbook' by Daily Telegraph food-writer Diana Henry. Biography Having completed a diploma course in London with Leith's School of Food & Wine, Matt Tebbutt set his sights on some of the best restaurants in the UK, with a view to acquiring the breadth of experience that would set him up to run his own successful restaurant. A true baptism of fire followed in the form of a traineeship with renowned Michelin starred chef, Marco Pierre White, working at The Oak Room and then The Criterion. Matt later moved to the kitchens of Chez Bruce, working under the tutelage of Bruce Poole, master of classic French food and leading advocate of affordable excellence. Working at Clarke's, Sally Clarke's Kensington restaurant, Matt was exposed to the art of bread making at one of the most skilled bakeries in the UK. One of his strongest influences, clearly evident in the Foxhunter menu is Alastair Little, pioneer of the non-stuffy, high-quality eatery and renowned for revolutionary freshness and flavour. Matt worked with Alastair at his Lancaster Road and Soho restaurants, celebrated for its no-nonsense British cooking, with a Northern Italian twist. Matt is a passionate exponent of Modern British cooking, using only the freshest, seasonal, locally sourced ingredients within honest recipes designed to highlight those ingredients. Matt runs Wild Food and Foraging courses at The Foxhunter, and the daily-changing menu features an exciting range of wild and foraged foods from the local countryside and sea-shore.
---
RAYEESA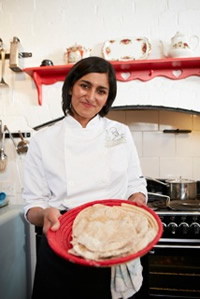 It is very exciting to welcome Rayeesa to The Chef's Room because we pride ourselves in the authenticity of our ethnic classes. Rayeesa joins popular tutors in this field; Franco (Italian) and Shaun (oriental) to bring real Indian cuisine to the school. Rayeesa learnt how to cook Hyderabadi style cuisine with her mother, growing up at home. She is passionate about sharing her love of Indian food and runs her own Indian cookery school in rural Herefordshire. She also produces a range of frozen curry sauces.
---
---
Cookery Courses | Cookery Classes | Italian, French, Indian, British and Welsh Cooking